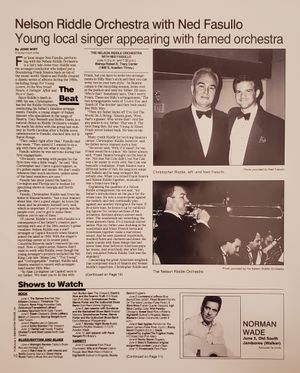 BY JOHN WIRT, ENTERTAINMENT WRITER | THE ADVOCATE, JUNE 4, 2004
For local singer Ned Fasullo, performing with the Nelson Riddle Orchestra is a fairy tale come true. Riddle was the arranger-conductor who helped put a floundering Frank Sinatra back on top of the music world. Sinatra and Riddle created a classic series of albums during the 1950's including Songs for Young Lovers, In the Wee Small Hours, A Swingin' Affair and Nice n' Easy.
Since Riddle's death in 1985, his son Christopher has led the Riddle orchestra, conducting his father's timeless arrangements. Fasullo, a young singer of Italian descent who specializes in the songs of Sinatra, Tony Bennett and Bobby Darin is a natural choice as Riddle Orchestra vocalist. He made his debut with the group last summer in North Carolina after a Riddle scout, unbeknownst to him, checked him out in Baton Rouge.
"They called right after that," Fasullo said this week. "They asked if I wanted to do a gig with them and see what it was like."
Fasullo admits he was nervous during that first engagement.
"Obviously, working with people for the first time was a little rough," he said. "But Christopher and I have a good rapport, so it's gotten easier and easier. We don't really rehearse that much anymore unless some of the band members are new."
Fasullo has since joined the band in Covington, Louisiana, and Florida and is booked for upcoming shows in Georgia and North Carolina.
Fasullo, Christopher Riddle said from his home in Massachusetts, "has a nice manner about him. He's a good singer, he loves music and he presents himself very well, which is important. If you're gonna win the people over, You've got to make them believe you're one of them."
Of course, Riddle's work with Fasullo is a consequence of his father's creative partnership with one of the 20th century's great vocalists. Nelson Riddle was a staff arranger at Capitol Records when Sinatra joined the label in 1953. With the singer's recording career at its lowest point, Columbia Records hadn't renewed his contract. Now a Capitol artist, Sinatra didn't want to work with Riddle, even though the young arranger's projects included the Nat King Cole hit "Mona Lisa", "Too Young", and "Unforgettable." Instead, Riddle said, Sinatra wanted to record with arranger-band leader Billy May.
"So Alan Livingston (at Capitol) says to my father, "We want you to do this with Frank, but you have to write two arrangements in Billy May's style and then you can write two in your own style." So Sinatra comes to the recording session, looks over at the podium and sees my father. He says "Who's that?" Somebody says, "Don't worry Frank. These are Billy's arrangements." The two arrangements were of I Love You and South of the Border and they both sound like Billy May.
"Then my father kicks off 'I've Got the World on a String.' Sinatra goes, 'Wow that's a gasser. Who wrote that?' And the guy points to my father. That was it. The next thing they did was Young at Heart. Frank never looked back. He was at the top again"
MAny credit Riddle for reviving Sinatra's career. Christopher Riddle, however, said his father never claimed such a feat.
"He never said, 'Well, if it wasn't for me, Frank would be no place.' My father always said, 'Frank Sinatra brought out the best in me.' Not that Nat Cole didn't, but Nat Cole was a lot easier to work with. Frank Sinatra was a different kettle of fish. He sang love songs and ballads and he san swingers like nobody else. When you mixed Frank Sinatra and Nelson Riddle together, musically it was a brand new thing."