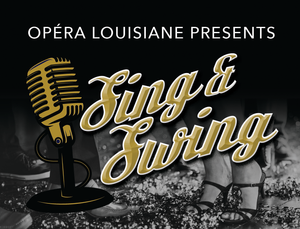 BY PAM BORDELON | PBORDELON@THEADVOCATE.COM | JAN 19, 2019 - 7:45 PM 
What a fun time we had Jan. 11 at Opéra Louisiane's second annual Sing & Swing celebrity karaoke competition at the Crowne Plaza. 
For two weeks leading up to the big fundraiser night, Stafford Wood and I were neck and neck in the votes, proving once again that women rule! In the end, she edged me out by less than 50 votes, but the main thing is we raised a lot of money for the city's only professional opera company. 
And, while we didn't have to sing opera, we did have to sing. I channeled torch singers from bygone days, complete with my signature boa, in my rendition of "Hey Big Spender" while Stafford morphed into Tina Turner for "Proud Mary," bringing along backup singers Beverly Brooks Thompson, Sean Matassa and Jeff Byrnes. 
Our fellow competitors included Leonard Augustus, who brought the audience to its feet with his performance of "Use Me Up"; Robert Byrnes, who had everyone singing along with his "Sweet Caroline," backed up by son Jeff and Geoff Kannenberg; Kyle Talbert, who plays bass for the V-Tones, rocked "Addicted to Love"; and Ruffin Rodrigue's intentional off-key performance of "Bohemian Rhapsody," which included backup vocals by Anthony Jones and Mark Hainey.  
The night's competition opened with an encore performance of "I Will Survive" by last year's winner, Susan McCarter. We were all accompanied by Ned Fasullo & the Fabulous Big Band, which also played for dancing throughout the night. 
The night was chaired by Bettsie Miller with help from board Chairwoman Monique Scott-Spaulding, Executive Director Leanne Clement, Artistic Director Michael Borowitz and Assistant Director Mysti Byrnes.